Skip to Content
It can be challenging to think about how your life may change after receiving a cancer diagnosis. Having to bring a deeply personal discussion to the workplace can add to that mental struggle. But over the long term, creating a plan you can reveal in your time and at your comfort level can be a source of relief.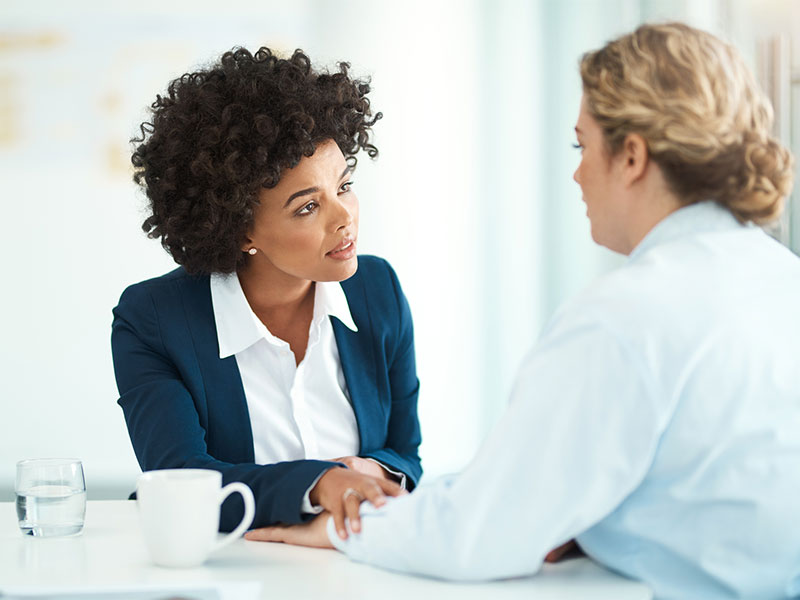 Do I Need to Tell Coworkers I have Cancer?
There is no requirement to tell your boss or coworkers about a cancer diagnosis, but it can make your professional life smoother over the course of your treatment. Telling your supervisor early can make it easier to plan for the time you need to balance work and cancer treatment. Discuss the possibility of shifting your schedule, calendaring time off, and reorganizing your workload. Request periodic check-ins to provide the opportunity for reassessment.
Informing HR can give you a greater understanding of company policies and the federal protections offered by the Americans with Disabilities Act (ADA) and Family and Medical Leave Act (FMLA). These conversations are confidential. Your employer is not allowed to inform other employees about your medical condition. It is your choice when and to whom to disclose private information, if at all.
If you decide to tell coworkers, you may consider the size and culture of the company to determine who should know. Whether you tell a large group or just a few colleagues, remember that confiding in your peers can create a foundation of support and compassion during those times you may need extra help.
How Do I Prepare for Difficult Conversations?
Prepare in advance. The only rules about disclosure are the ones that give you the greatest sense of comfort. Writing down or rehearsing the points you want to address will help steer the conversation. Consider asking someone to speak on your behalf if this conversation may be too emotional for you to lead. Key issues you might wish to cover:
How long you expect treatment will last
When you expect to return to work if taking a leave of absence
Schedule changes
Requested accommodations for workload, if necessary
How you wish to talk about your cancer journey when at work
Questions may arise that you can't answer. It is okay to say that you don't know or are not ready to discuss specific issues. Well-meaning associates may want to overshare or be overly inquisitive in their attempt to connect and help. You can set a boundary for what is acceptable to talk about in the workplace. Your team will understand when you must stop or redirect a conversation.
What if You Are the Employer or Business Owner?
It can be daunting to approach your staff with a personal share. Still, it could be in your best interest to inform your employees if there are noticeable shifts to your routine or visible changes in your appearance. You may tell a trusted advisor, a small group of managers, or all employees. A candid approach may be reassuring for your team.
If you decide to share with clients, focus the discussion on how you will handle their business. Let them know when and how you will be available. Communicate how their projects will be managed. There may be a wide range of reactions, but your end goal is to maintain the consistency of your business. Keeping the relationship professional and providing a sound plan will ensure it does.
Finding Support
Discussing your treatment at work might feel like another project you are responsible for spearheading. Remember that there are support services just for you. The American Cancer Society offers a search tool that connects cancer patients to programs, services, and emotional support groups that keep the focus on healing and self-care. 
Southern Cancer Center offers a multitude of resources and support for our patients coping with their cancer journey, including a licensed social worker and the "Bell Ringers" Support Group. Learn more about our other resources here: www.southerncancercenter.com/resources/.
Supporting a Coworker with Cancer
Cancer is tough and working with cancer can be even tougher. Cancer patients need to put their health first and feeling supported in the workplace can help. If your coworker has been diagnosed with cancer, it may be difficult to know what to say or how to best offer your support while respecting their boundaries.
It's not an easy thing to talk about in a workplace setting. But knowing you're supported at work can take away a lot of stress a patient may be facing. Here are a few things to consider when supporting a coworker with a cancer diagnosis.
What Should I Say?
When someone tells you they have cancer, it's normal to not know what to say. Be sincere and honest in your reaction. They're still the same person you work with every day.
You should:
Express empathy and give words of encouragement or support. Ask your coworker how they're feeling or ask them if there's anything you can do to ease their workload.
Have normal conversations. Your coworker is spending a lot of their time thinking about and talking about their diagnosis. Talking about work or other normal topics of conversation can be a helpful, welcome escape.
Keep your sense of humor! Be appropriate for the workplace and your coworker's boundaries, but creating a light environment goes a long way.
Listen. Words of support and encouragement are great, but letting your coworker tell you how they are feeling and what they need is an important way to respect their experience.
You should not:
Comment on their appearance. Regardless of your intent, this can lead to hurt feelings.
Refer to their treatment as a 'battle' or comment on their 'bravery.' There may be a point in their cancer treatment where they feel like they are 'losing,' so this kind of language can feel discouraging.
Offer unsolicited advice or personal anecdotes. Every person's experience with cancer is different. Remember to respect your coworker's choices and perspective.
How Can I Help?
It's natural to want to help in a difficult situation. Try to offer to do something specific. It's wonderful to let your coworker know you're willing to help, but they may not always feel comfortable asking.
Try offering to:
Be their point of contact for office communications. If you work closely with them, you can offer to relay anything important they miss during cancer treatment. Be sure to ask them how much information they'd like to receive, how often they want to hear from you, and what the best method of communication is.
Deliver food or set up a meal train. Cancer treatment can be stressful and time-consuming, and assisting with meals can help. Ask your coworker if providing meals would be appreciated. Don't deliver food without asking or without letting them know exactly what you're bringing—they may have dietary needs or allergies you are unaware of.
Help with their workload. If appropriate, offer to assist with projects or work duties. Be sure to ask permission first, rather than assuming their workload is too much.
What Are Other Ways I Can Show My Support?
Work is often where we spend a significant portion of our time and knowing colleagues are supportive can lift a patient's spirits. Here are some additional ideas for showing your support:
Send a card or put together a gift basket. Take the time to handwrite a note or put together a thoughtful care package.
Send a text or email to let them know you're thinking of them.
If you are close, make time to visit or have a phone call—but be sure to give them a heads up! Respect their time, and remember that while they may appreciate your company, they may also feel tired or overwhelmed.
Most importantly, remember you are supporting them. Make sure you're centering their needs to support them in the most helpful and appropriate way possible.
Survivorship & Returning to Work
When you or your loved one was diagnosed with cancer, life changed. Your world was focused on the disease: you may have had to go through radiation or chemo treatment, or even surgery. You spent time and energy learning to manage your side effects. You had an entire care team dedicated to your healthcare needs.
But what happens when the doctor announces you are finally cancer free…and you're healthy enough to go back to work? How do you adjust when all of your energy has been focused on treating your cancer?
Take it easy. It may be tempting to throw yourself back into your job at 100%, but you've been through a lot! Be kind to yourself, and don't overdo it—your mental and emotional well-being are worth it.
Don't expect to know everything. If you've been out of work for an extended period, things may have changed. Don't go in expecting to be an expert on everything—you may need extra training or a helping hand, so don't be afraid to ask.
Don't feel obligated to share. If it's what you want, it's completely okay to disclose your cancer diagnosis to your coworkers. Maybe they've even been there for you during your illness! Of course, if you don't disclose and if you've been gone for a while or undergone a physical transformation, there may be questions. But remember that you aren't obligated to share any medical information with anyone at work, unless you want to.
Ask for accommodations. Don't be afraid to request a work environment that is conducive to you. The ADA requires workplaces to provide reasonable accommodations when needed. Read ADA Guidance here. If you're concerned about talking to your boss, reach out to your human resources department.
Expect different emotions. After you're deemed cancer free, you may find it hard to go through life without the support you once had from family, friends, and your care team. But that doesn't mean you're alone. It may be helpful to share your feelings with a loved one, or even to speak to a therapist. Some workplaces may even offer counseling services.
Get to know Human Resources (HR). HR isn't there just for complaints—they can help you manage your transition back into the workplace.
You can do it. Maybe it'll be easy to get back into the swing of things, or maybe returning to work again will feel like a whole new job. Regardless, it's important to recognize that you've already accomplished amazing things.
Southern Cancer Center's experienced, licensed social services department is committed to ensuring that our patients have access to the psychological, social, practical and spiritual support and resources they need. Cancer affects more than your physical health, and we are here to provide resources to address any peripheral problems related to your diagnosis.
Our services are provided in person, over the phone or in a group setting, and do not require a referral from a physician or medical team. Visit www.southerncancercenter.com/resources for a comprehensive list of patient resources and support services, or reach out to our social services department at (251) 607-5114.
Sources:
Before You Share Your Cancer Diagnosis at Work – Patient Empowerment Network (powerfulpatients.org)
Whom to Tell | Cancer and Careers
Telling Your Employees | Cancer, Work and You | Cancer Council NSW
How to Tell Your Employer You Have Cancer: 6 Thoughtful Tips | CaringBridge
https://www.cancerandcareers.org/en/at-work/back-to-work-after-cancer/back-to-work
https://www.cancer.org/treatment/survivorship-during-and-after-treatment/staying-active/workingduring-and-after-treatment/returning-to-work-after-cancer-treatment