Skip to Content
New FDA-Approved Treatment for Advanced Follicular Lymphoma Available at Southern Cancer Center
Southern Cancer Center is proud to offer mosunetuzumab-axgb (brand name Lunsumio™), a new immunotherapy treatment for advanced follicular lymphoma. The U.S. Food and Drug Administration (FDA) recently approved the treatment for adults with advanced follicular lymphoma that has not responded to at least two earlier treatments. Lunsumio is a bispecific antibody and the first immunotherapy of its kind approved to treat any type of non-Hodgkin lymphoma.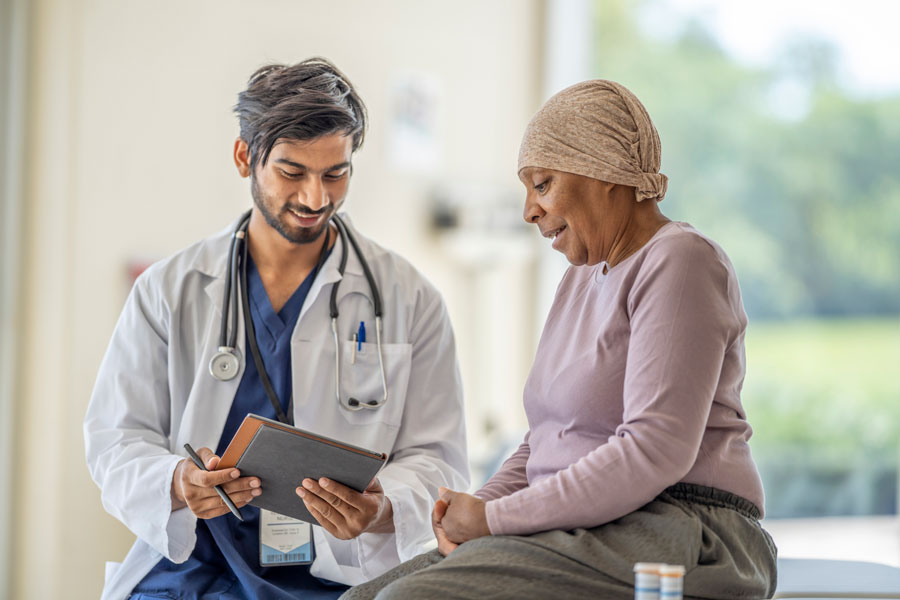 Follicular lymphoma is the second most common type of non-Hodgkin lymphoma and accounts for 30 percent of all lymphomas. Prior to this approval, patients with follicular lymphoma that had either returned or not responded to treatment had limited treatment options.
"Lunsumio offers new hope for achieving remission for patients with advanced follicular lymphoma," said Tiffany Mitchem, PharmD, Director of Pharmacy at Southern Cancer Center. "We're thrilled to offer this breakthrough treatment to patients right here on the Gulf Coast."
The American Society of Hematology studied patients with advanced follicular lymphoma that did not respond to two or more previous lines of treatment and found 80 percent of patients showed a response to Lunsumio. Sixty percent of patients had no cancer detected after treatment.
How Does Lunsumio Treat Lymphoma?
Follicular lymphoma forms in B cells, a type of immune system cell. Lunsumio works by attaching to the surface of the B cells as well as another type of immune cell called the T cell. The T cells are then engaged to destroy the cancer cells.
Lunsumio is given as an infusion in an outpatient setting once a week for the first three weeks, then once every three weeks. The drug is an off-the-shelf product, which means it does not need to be personalized to each patient.
"This is an accessible treatment that can be started more quickly than other immunotherapies that need to be developed for the individual patient," said Mitchem. "There's no need to travel to a specialized center. Patients can receive treatment in an outpatient clinic close to home."
For More Information on Lymphoma Treatment, Contact the Experts at Southern Cancer Center
"At Southern Cancer Center, it is our goal to bring the latest advances in cancer treatment to patients," said Mitchem. "Lunsumio is an exciting step forward for lymphoma patients in our community."
To learn more about lymphoma and its treatment options, visit www.southerncancercenter.com/lymphoma. To make an appointment, click HERE or call 251-625-6896.