Skip to Content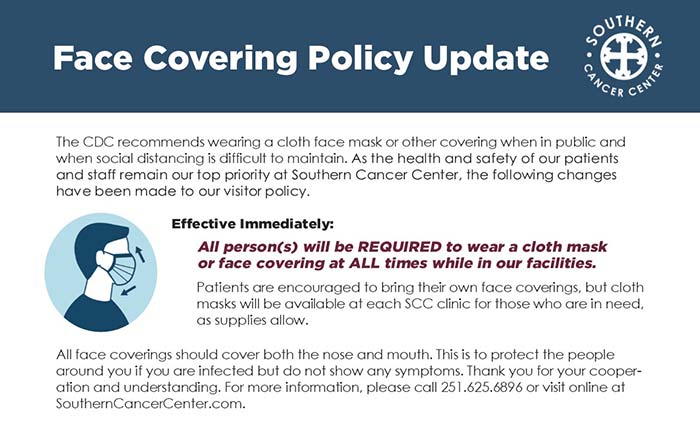 Effective May 4, 2020- A new Face Covering Policy has gone into effect at all Southern Cancer Center locations, requiring that masks be worn by everyone entering our facilities. Thank you for your understanding, as the safety of our clinics continues to remain our top priority.
"The CDC recommends wearing a cloth face mask or other covering when in public and when social distancing is difficult to maintain. As the health and safety of our patients and staff remain our top priority at Southern Cancer Center, the following changes have been made to our visitor policy.
Effective Immediately: All person(s) will be REQUIRED to wear a cloth mask or face covering at ALL times while in our facilities. Patients are encouraged to bring their own face coverings, but cloth masks will be available at each SCC clinic for those who are in need, as supplies allow.
All face coverings should cover both the nose and mouth. This is to protect the people around you if you are infected but do not show any symptoms. Thank you for your cooperation and understanding. For more information, please call 251.625.6896 or visit online at SouthernCancerCenter.com."