Skip to Content
Baldwin Co. Providers Featured As "Leaders in Health"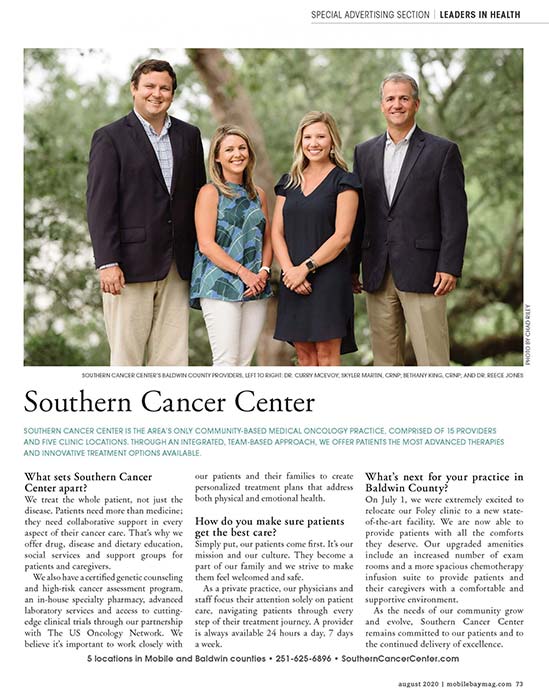 Southern Cancer Center was so proud and excited to have our Baldwin County providers highlighted in the August issue of Mobile Bay Magazine, in a special "Leaders In Health" section! (www.mobilebaymag.com) Read the article below.
Pictured left to right are Dr. Curry McEvoy, Skyler Martin, CRNP, Bethany King, CRNP, and Dr. Reece Jones.
Southern Cancer Center is the area's only community-based medical oncology practice, comprised of 15 providers and five clinic locations. Through an integrated, team-based approach, we offer patients the most advanced therapies and innovative treatment options available.
What sets Southern Cancer Center apart?
We treat the whole patient, not just the disease. Patients need more than medicine; they need collaborative support in every aspect of their cancer care. That's why we offer drug, disease and dietary education, social services and support groups for patients and caregivers.
We also have a certified genetic counseling and high-risk cancer assessment program, an in-house specialty pharmacy, advanced laboratory services and access to cutting-edge clinical trials through our partnership with The US Oncology Network. We believe it's important to work closely with our patients and their families to create personalized treatment plans that address both physical and emotional health.
How do you make sure patients get the best care?
Simply put, our patients come first. It's our mission and our culture. They become a part of our family and we strive to make them feel welcomed and safe. As a private practice, our physicians and staff focus their attention solely on patient care, navigating patients through every step of their treatment journey. A provider is always available 24 hours a day, 7 days a week.
What's next for your practice in Baldwin County?
On July 1st, we were extremely excited to relocate our Foley clinic to a new state-of-the-art facility. We are now able to provide patients with all the comforts they deserve. Our upgraded amenities include an increased number of exam rooms and a more spacious chemotherapy infusion suite to provide patients and their caregivers with a comfortable and supportive environment. As the needs of our community grow and evolve, Southern Cancer Center remains committed to our patients and to the continued delivery of excellence.