Skip to Content
Save the Date: Jubilee Festival of Arts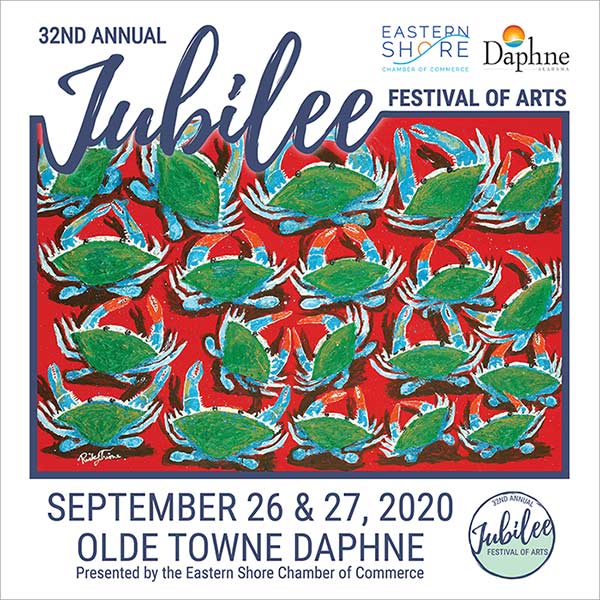 SAVE THE DATE for the 32nd Annual Jubilee Festival of Arts! Southern Cancer Center is a proud sponsor of the festival again this year, so keep an eye out for our company tent and stop by during the festival for fun, free giveaways!
www.thejubileefestival.com or facebook.com/jubileefestivaldaphne
The 32nd Annual Jubilee Festival of Arts in Daphne, Alabama is set for September 26th and 27th in Lott Park, on Main Street in Olde Towne Daphne. Art, music and local cuisine meet southern charm at this annual festival set along the Eastern Shore of Mobile Bay. Find the very best in jewelry, paintings, pottery, sculpture, wood, mixed media, functional and decorative items. Olde Towne Daphne's picturesque bay views are an inspiration to artists from across the country. The Eastern Shore Chamber of Commerce hosts the Jubilee Festival of Arts each year to support tourism and the arts and spotlight the beauty and fun of Olde Towne Daphne.
COVID-19 is forcing events throughout the area to make major adjustments in order to allow for social distancing and health guidelines, including the 32nd Annual Jubilee Festival of Arts. In years past, artist booths have lined Main Street in Daphne, but this year the open-air festival is moving to Lott Park, just outside the usual festival footprint. The move allows room to spread out. At full capacity, organizers can put 10 feet between each vendor's booth and allow for much wider walkways for guests.
The festival will also feature artists and Jubilee Market vendors on a Virtual Shop so patrons can continue to support them online. The virtual shop will be up and running by September 7, 2020. The Kids Art Park will also have a virtual element. Stop by the "Grab and Go Kids Art" tents to pick up supplies, then follow along online with featured artist Ricky Trione as he teaches a virtual art class.
Other changes include reducing entertainment to solo acts and adding hand sanitizer stations throughout the festival. Patrons are asked to follow state guidelines for social distancing and wearing face masks in public spaces.