Skip to Content
Christmas Door Decorating Contest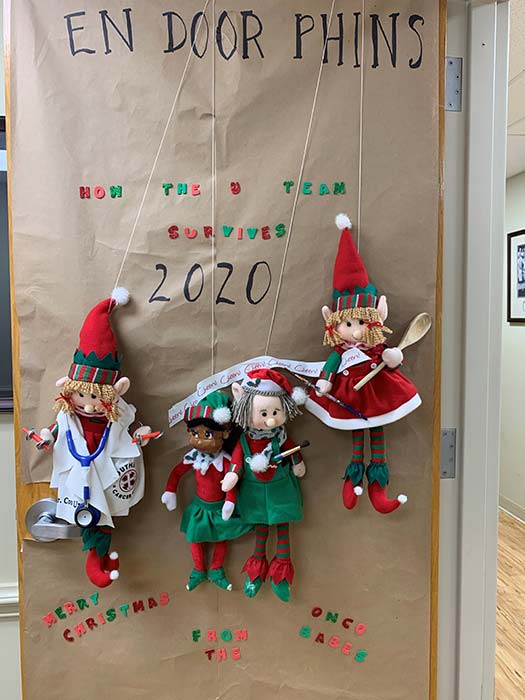 This holiday season Southern Cancer Center staff once again competed in our annual "Christmas Door Decorating Contest". Staff members chose their door of choice, at their clinic of choice, and then creatively decorated it in hopes of winning the grand prize of social media praise and bragging rights.
We had 25 outstanding door entries submitted into the contest this season, each as unique as the next. With so many doors and so much talent, our panel of judges had quite the difficult task of choosing the best. Creativity, cleverness, time spent and overall appearance were all taken into account when selecting the winners. One winning door was chosen from each of SCC's 5 clinic locations, plus an overall winner for the entire practice. Winners are listed below.
Overall Winner: Dr. Uzel and her team of elves survived 2020 by relying on their hobbies and each other to keep sane. Each elf has such personal details added to it, it's hard not to smile and secretly hope they come to life. Pictured left to right: Elf Uzel, Elf Lela, Elf Pam, Elf Michelle
Foley Winner: Chemo nurse Diane Raudnael lets our patients know that they are loved and welcomed, seeing themselves in the mirror as they enter Foley infusion.
Daphne Winner: Chemo nurse Duane Methvin used a few helping hands to craft his tree… literally. The entire tree and the star on top are cut out hands prints! There's a lot of love (and hugs) on this tree.
Infirmary Winner: Patient services coordinators Timberly Jones & Welnique Daughtry may have used simple materials to build their door, but they expertly constructed it into this adorable, jolly snowman.
Springhill Winner: The ladies of the front desk staff at Springhill pulled together to create their door, reminding us that teamwork is essential to success. No matter your job or clinic, we all pull together at SCC to help our patients beat their cancer.
Providence Winner: Last but certainly not least, the Providence Misfits prove although we are different, we are all a part of one team. But a little mischief never hurts. Door designed by call center staff Rena Levins, Adrienne Nelson and Courtney Brown.