Skip to Content
Gone Fishing: ACCF's Third Annual Bass Tournament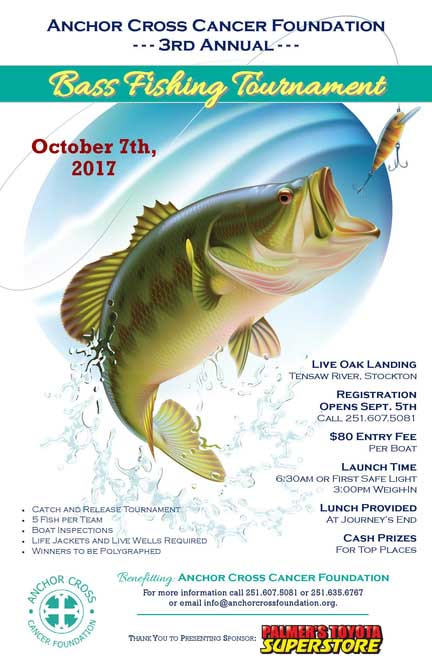 As the hottest temperatures of the year pass and the fall weather starts to sneak in, enjoy some leisure time on the water by participating in Anchor Cross Cancer Foundation's (ACCF) third annual Bass Fishing Tournament. You can't beat the fun you'll have to drop a line with your buddies all while supporting a great cause!
Southern Cancer Center is proud to sponsor this event and continue its support of ACCF. This organization is so important to SCC through its philanthropic assistance and resources to Mobile and Baldwin County cancer patients. Some of the services they provide are financial aid with medical supplies and utility bills, co-pays for medications, assistance with Medicaid applications, and rides to and from treatment. Over the past year, ACCF has helped over 60 patients in need and distributed $50,000 to aid in these financial burdens.
This year's tournament will be held at Live Oak Landing on October 7th. It will be a catch-and-release tournament requiring boat inspections, life jackets and live wells, and winners will be subject to a polygraph test. Registration for this event starts September 5th. The entry fee is $80 per boat and each boat will be launched in the order it was registered. The top five winning teams will win cash prizes with first place taking home $2,000. Participants will also enjoy lunch and thousands of dollars in door prizes and raffle drawings. All proceeds for the event will benefit the ACCF and its mission to serve and ease the financial burdens of cancer patients in our community.
For more information on registration or providing a sponsorship for the tournament, contact Daniel Meshad at 888-625-6896 or info@anchorcrossfoundation.org.